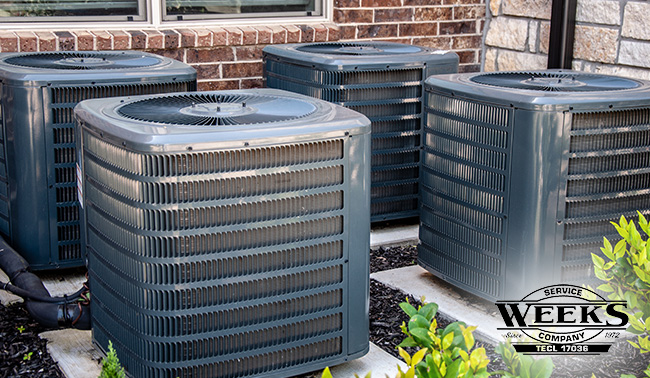 It's about that time of year again. Spring is just around the corner, and that means you've got a lot of spring-related tasks to check off on your list. Other than a spring cleaning around the home, what could be more important than making sure your HVAC unit is ready for the changing seasons?
The answer, to put it simply, is not much. The (official) switch from winter to spring can wreak havoc on your heating and cooling system. If you're not prepared, you could damage your HVAC unit, or at least see a spike in energy bills as your efficiency decreases. Make sure that doesn't happen and prepare your cooling system for spring with these tips from Weeks Service Company!
Clean the Debris Around Your Outdoor Unit
The condenser, which probably sits outside on a concrete slab next to your home, is an integral part of the cooling system. To operate effectively, that outdoor unit needs to be clear of debris and free of obstruction.
Take some time to clear anything that might get stuck or clog the condenser, like branches, rocks or random pieces of debris. It won't take long, and it'll actually provide quite a nice effect on your cooling system's performance.
Inspect Your Refrigerant Lines
Periodically, you should take a quick look at the refrigerant lines behind your condenser. Feel them see if they're cold – as they should be – and to check for any potential leaks. Leaky refrigerant is a serious problem, as your cooling system has to work overtime to work effectively.
And if you ignore it for too long, then you could be forced to pay for a refrigerant charge, which is costly and could be even more expensive depending on the type of refrigerant your unit uses. It's better to catch these things ahead of time to implement a much less costly solution rather than a full-scale replacement!
Change Your Air Filter
We harp on this a lot, and it seems like one of our most common suggestions is to replace your air filter on time. But there's a reason we mention it so often – it's important! When your air filter is fresh, your cooling system can operate efficiently and effectively. When it's not, though, your energy bill will slowly increase the longer you neglect the dirty air filter.
You should change your filter every 30 days — potentially a little sooner or later depending on what filter you have.
Schedule Maintenance
The best way to ensure your cooling system is ready for spring is to let a professional look at it. An expert's eye will catch smaller, seemingly insignificant problems you might not think much of. They'll recommend effective strategies to help your cooling system operate more efficiently.
Get in touch with the cooling experts at Weeks Service Company to find out how we can get your cooling system back in tip-top shape for the upcoming spring season. Give us a call at 281-738-1362 for more information!