What our customers have to say
---
Since 1972, we have provided the most trusted home and commercial services in the Houston area. But don't take our word for it! Read some of the rave reviews from our dedicated customers.
Customer Service Excellence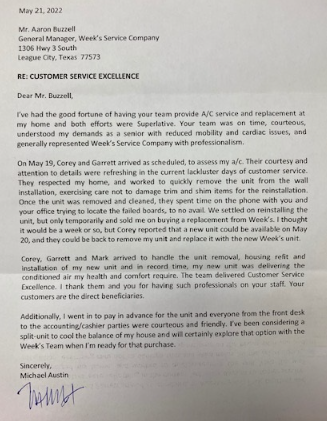 Michael A.
Thank you Spencer and Weeks!
We called Weeks at 7:45 on a Saturday morning after trying to get another company to come out for two days. Spencer was at the house within 2 hours to repair the power issue. By the time he arrived, the power had finally come back on, but he still took the time to check the outlets and the breaker box. That extra level of reassurance makes me a Weeks customer from now on. Thank you Spencer and Weeks!
Sue Foster
Use them! Trust them! Call them!
I get so fired up about this company, every time I use them! A-Mazing! I knew I needed to get my 22yr old(1999) AirCond replaced, before the heat of the summer! The compressor outside started to sound like an old meat grinder! From the beginning estimate, thru the entire install, all the way to the goodbye's; simply an incredible experience(even with having to sleep the single night, curled up next to the window unit, our only cool air)! Michael and David are a great team! David, young, hard worker, and never stopped producing! Michael, never let his guard down, stayed very professional and courteous the entire time, and made sure we were well informed! Both were respectful of property and time. Too many excellent details to list here! We've used and enjoyed Weeks for yrs(at least 7yrs to my recollection). I've purchased parts to install on my own, and they've been incredible! We've had them out to service and give advice, and they've been incredible! Now, we've had them replace our entire system, and they've been just as incredible! Use them! Trust them! Call them! Have a great experience!
A & J Cordova of League City, TX
More reason we will continue to use Weeks
We have used Weeks for over ten years on multiple properties. Recently we replaced both of our units on our personal home. I was so impressed that the technician Robby took so much time with us. He explained all of our options and made sure we really understood. His incredible customer service is just one more reason we will continue to use Weeks!
-H. Marie
BEST service and pricing around
Called for an appt this morning after experiencing problems with one of our units cooling last night. We had an appt this afternoon and our service technician was awesome. He was very thorough (even in this rainy weather) and took the time to explain things to me and even to my husband over the phone. Replacement parts are on the way. I have absolutely NO doubts that we are receiving the BEST service and pricing around. Thank you, Weeks!
-M. Ayala
We are customers for life
Weeks AC technicians really went above and beyond with service on this July 4th weekend. They came out on a service call on Sunday and even though they could not repair the problem at that time, gave us some tips on how to "baby" the unit until they could get the part today. Aaron and Matthew are outstanding technicians… we are customers for life! Thank you.
-P. Maddox
I would highly recommend them for all your service needs.
I have used Weeks Service Company for years. My air conditioner quit blowing cold air after a power surge last night. I called their office first thing this morning. By 9:15 my air conditioner was blowing cold air again. Their staff is always professional, courteous, and knowledgeable. I would highly recommend them for all your service needs.
-P. Dell
I need to give 10 stars!
I need to give 10 stars! It was hotter than fish grease inside my home today, but Matthew came in and diagnosed the issue quickly! The guys at Weeks showed up within minutes to install! THANK YOU, THANK YOU, THANK YOU! Texas heat even in October is no joke! Highly recommend Matthew and the whole Weeks crew!! Keepin' it local always!!
-B. Ramirez