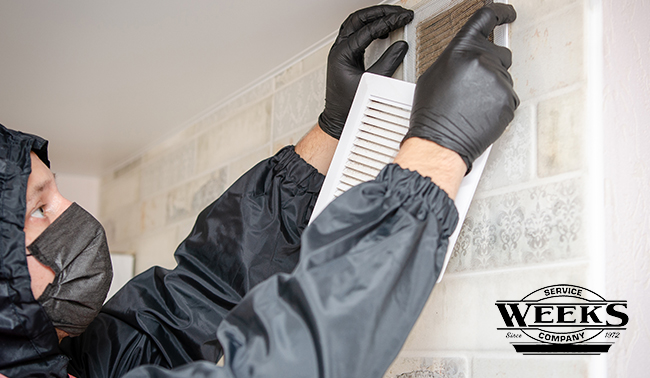 How Often Should I Clean My Air Ducts?
There are several things to consider when deciding how often you should clean your air ducts. As a general rule of thumb, it is recommended by the National Air Duct Cleaners Association that you get your air ducts cleaned every 3 to 5 years. However, if you have pets, it's recommended you consider duct cleaning every 2 years. The frequency of duct cleaning varies from household to household.
When Would You Consider Air Duct Cleaning More Often?
If you have increased activity in your home, you may need to clean your ducts more often than the recommended 3 to 5 years. Truth be told, no one wants to breathe in pollutants such as dust, dirt, pet dander, rodent debris, and mold. If any of the following apply to your League City, Texas home, you may want to consider getting your ducts cleaned more often.
Mold inside your ducts means you need to get them professionally cleaned by your local HVAC company. The last thing you want to do is breathe it in.
Unfortunately, mice, insects, rats and other little critters may find their way inside your ductwork, making a home for themselves and leaving droppings in their wake. This can be a health hazard, and their droppings can seriously irritate lungs and infect members of your household.
Do you see dust flying from your registers when your HVAC system turns on? This is also an indication that your ducts are clogged and could use a duct cleaning.
If you have pets in your household, you are probably all too familiar with finding hair all over the place; on your clothes, on your furniture and when you vacuum. If you're seeing pet dander all over your house, it's safe to say it's also living inside your ductwork and should be professionally cleaned.
Other reasons why it's important to keep your air ducts cleaned:
Children are living with you
Seniors are living with you
You have allergies or asthma
You've recently renovated your home
You've recently bought a new home
Your ducts haven't been cleaned in the past
Why Invest In Air Duct Cleaning?
It goes without saying that breathing in mold, rodent debris, dust and pet dander probably aren't the best things to fill your lungs with. Duct cleaning can greatly impact your air quality, making the air you breathe much cleaner and preventing health issues. Not only that, but air duct cleaning can contribute to the efficiency of your HVAC unit. When you have no dust or other pollutants blocking the airflow from your HVAC system, it will run more efficiently. Dirty ducts put a strain on your system, causing it to work harder which also contributes to higher energy bills.
About Weeks Service Company
Weeks Service Company offers duct cleaning services to residents in the League City, TX and surrounding areas. If you have any questions regarding your ductwork, don't hesitate to call or contact us!