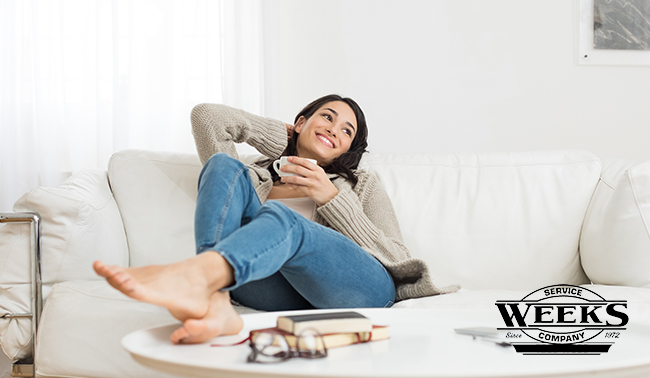 How To Improve Indoor Air Quality During Winter
Winter is coming…and it's bringing poor indoor air quality with it! The indoor air quality in your home, otherwise known as IAQ, can become lower in the winter because people stay inside more and open windows and doors less. The absence of proper ventilation during the colder months can cause an accumulation of unwanted air pollutants, such as dust particles, viruses, bacteria, and germs, to name a few.
It can be difficult to know the difference between a seasonal cold, seasonal allergies, and poor indoor air quality. If you're experiencing the following symptoms regularly, you may be experiencing poor indoor air quality.
Flu-like symptoms

 Headaches
Dizziness
Fatigue
Itchy eyes, nose, and/or throat
Worsened pre-existing issues such as asthma, allergies, and chronic illnesses
Just because it's normal to experience poor indoor air quality in the winter doesn't mean you should have to. Here are 4 tips to improving your indoor air quality in the winter so you don't have to suffer all season long.
Clean Your Ducts
When's the last time you had your ducts cleaned? Cleaning your ducts can drastically improve the air quality inside your home. Air duct cleaning prevents health issues, giving your ducts a deep clean against the spread of dirt, germs, dust, pollen, and other pollutants that spread throughout your home.
Inspect Your Ducts
Not only is cleaning your ducts important, but so is inspecting them. Having them inspected can catch problems before they get larger, and alert you to leaks. Leaks in your ducts could be contributing to the problem of poor IAQ.
Consider Installing An Air Purifier
Air purifiers…what are they good for? Absolutely everything! Pollutants, bacteria, viruses, and germs hang around and are often invisible to the human eye, making them tough to get rid of. An air purifier can destroy these unwanted guests from your home's airflow. With an air purifier, you can breathe fresh air without stepping outside this winter.
Schedule A Furnace Maintenance
Did you know airborne pollutants in your home can be tough on your home comfort system? Particles can build up in the indoor coil, reducing your HVAC system's overall efficiency and interfering with the quality of your airflow. When you have your furnace cleaned and checked by a professional at Weeks Service Company, we'll also make sure your filters are cleaned. Clean filters can help get rid of dust and debris build-up that can be impacting your home's indoor air quality.
Call Weeks Service Company
At Weeks Service Company, we promote healthy air flow in your home. Our team wants you to breathe fresh air this winter. We know the quality of air in your home depends on a variety of factors, including your HVAC system, climate, and building design. Whether it's cleaning and inspecting your ducts, installing an air purifier in your home, or performing a routine furnace maintenance, you can trust our team to improve the overall air quality inside your home. Contact us today!