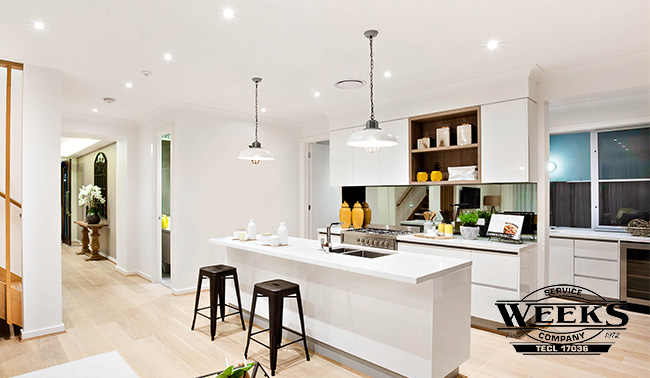 If you're looking for an artistic project this summer, consider spicing up the lighting in your home. Adding different types of creative lighting in your home will showcase your personality and will make you feel more comfortable.
But finding the right lighting isn't always easy. Luckily, the professionals at Weeks Service Company know a thing or two about lighting and can show you some creative ways to light your home!
3 Types of Lighting
Take a minute to read a little bit about the three basic types of lighting you can have in your home:
Ambient lighting is usually created using overhead fixtures such as chandeliers and lamps. This lighting provides a complete glow to your home so you can see and work comfortably in that space.
This type of lighting is more focused than ambient lighting. It's meant to provide lighting to help you accomplish tasks (hence the name task lighting) like reading, writing and cooking. Task lighting can be created using track lights as well as adjustable desk lamps.
Accent lighting is used to draw attention to a specific part of your home or décor. Accent lighting is usually created using picture lights or sconces.
4 Creative Ways to Light Your Home
1. Bolden Up Your Living Room
The living room is the first thing you and your guests see upon entering your home. It's important that your creative lighting in the living room is comfortable, well-functioning, and in this case, daring. Make a strong impression by using a bold center fixture for your living room. Not only does a bold fixture make a statement about you, it is also a better option than adding several smaller lights in your ceiling resulting in an overly lit room. To achieve this look, you can use a contemporary chandelier or a sturdy suspension lamp.
2. Create a Night Sky Effect for Your Children's Bedroom
If you have a child, chances are they probably want a cool bedroom. You can achieve this simply by changing up the lighting in their room. String up some star-shaped fairy lights and light them up at night. For the safety of your children, make sure the lights you get are LED lights and made of plastic.
If string lights are not an option, consider a moon and star shaped ceiling fixture. This fixture will provide warm ambient lighting adding to the comfort and creativity of your child's bedroom.
3. Consider Under Cabinet Lighting for Your Kitchen
If the rest of your home is well-lit and your kitchen still resembles a dim dungeon where you can't see what you cook, consider some under cabinet lighting. Under cabinet lighting provides accent lighting for food preparation as well as some soft background lighting with a modern feel.
Here are some different types of under cabinet lights you can consider:
LED fixtures are more expensive, but they are the most energy-efficient option and are dimmable.
Xenon fixtures are dimmable and inexpensive, but they consume a lot of energy and emit a lot of heat.
Fluorescent fixtures don't emit as much as heat as Xenon fixtures. However, their pricing is around the same as LED fixtures.
4. Add Softer Lighting for Your Bathroom
Replace the harsh lighting in your bathroom with softer lighting emitted by candle sconces. Candle sconces will give your bathroom calmer lighting which is nice to have when you're taking a relaxing bath. In addition to that, these sconces will also be ideal for mirror lighting. If you want to use these candle sconces on a regular basis, go for battery-operated candles!
For ceiling lighting, choose lights that radiate diffused lighting that isn't pointing directly down on your head.
We hope your creative lighting project is fun and safe. The team at Weeks Service Company is here to cater to your electrical needs and provides a wide range of services such as fixture installation, electrical maintenance and plug and switch replacement. Call us at 281-738-1362 or schedule a service on our website!